"My world is farming"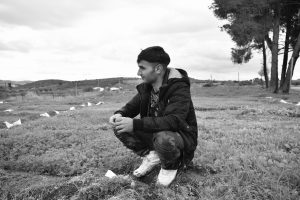 When my wife and I immigrated to Iran, the Iranian government threatened us with deportation. That was exactly the moment we discoverd that my wife was pregnant and it was then that we started praying for a miracle.
My youth had been poisoned by discrimination. The mere idea that my child could also become victim to similar discrimination was unbearable. That prospect became a nightmare burning my might. So we decided that we should leave Iran and seek a better place for our child to grow up, no matter what the risks of such a journey would bring. We wanted our child to be born in a place of safety, of peace, of future possibilities.
My parents were totally against our decision, for they were very vulnerable and there was no one to take care of them, once we were gone. But for us, there was no other option. We were not going to become spectators of our child s unhappy life.
The journeys of refugees are never without risks, without dangers and without hardships. But every refugee who embarks on his journey has, at least, one most horrible experience, one most unbearable moment, never to be forgotten. For us the worst part of our journey was the sea, when my wife was trying to tolerate her belly's pains, in order not to be arrested by the polices while crossing the border. At that terrible moment as we were crossing, we could never imagine that we we would end up in this dreadfulcamp, in the margins of Europe.
As for many refugees, my life, so far, had been without joy, without certainties, without belief in a possible better future. With the coming of our child, however, I could, no longer, accept the continuation of such an existence. I started taking steps for a better life and a brighter future. I started making changes in our environment.
For eight years in Iran, I was a farmer and, over those years, I gained a valuable experience in farming. I decided to apply that experience and I started planting different plants, mostly vegetables, in small plots close to our house and with access to water.
I want the world to listen to my voice, to listen to my words. I believe that every individual should be able to work in the field they want and have experience in. Only then, will they be able to develop to reach their potential and earn a dignified income. Passion is a key to success, self improvement, and strenght. In no way, should it be repressed or hidden.
I was getting depressed before, but farming, sowing plants, giving them water, being outside in the fresh air rescued me from the dark and heavy feelings that oppressed me. All the same, however, working here is not easy as it may seem to passersby. Neither has it brought a revolution in my life.
While working the land has given me some relief, every single moment, my thoughts are with my wife who is suffering from diabitis and hypertension. My thoughts are also always with my new born baby who is only five months old and badly sick.
Our journey to Europe has badly damanged the health of my wife. Her sugar level is very high and it has provoked two miscarriages. This baby was our last hope, because the doctors had warned us that my wife might not be able to get pregant. Unfortunately, she is now dependent on a medicine which she takes three times per day. She also needs to have insulin everyday.
Yet, all these difficulties do not prevent me from feeling joy seeing our own crops grow, in spite of the limited facilities at my disposal. I am also content that we will be able to sell part of the crops to the
inhabitants of the camp at a lower price than that asked by the local sellers, even though their fruits and vegetables are often of very bad quality.
I am a proud farmer. I want to live my life, my world, my future, my hopes and dreams in a green land,where I can exert my energy not have it supressed.