"Will war in syria ever finish…?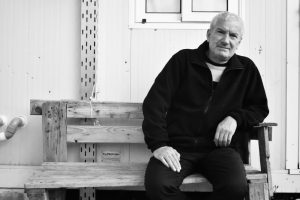 I dream of a future when I will be reunited with my children, who left Syria before me and, now, live in Germany.
Nothing is more important than my children. I hope this endless war in Syria will finish and that I will be able to start a new life in my own country, where I can feel dignity and respect.
I have less words for the world, but I have more words for the young generations. What I want them to know is what I could not understand about life. I want them to never stop learning, never stop
asking and staying curious about life, about love and about the world.
I passed my childhood, youth and old age in war, but I hope they will have a different life, different experiences. I lost my country and my loved ones because of the hypocrisy of the powerful, their racism and their political games.
People see us as persons without skills, profession, knowledge, abilities. I am not the only one considered so. Thousands of us are seen as useless, we who, once, we were the labour force, the
backbone of our country and its economy. I was a businessman. I had my own sewing company, one of the most productive sewing companies in our region. I want to start a business like that here too.
A refugee is a person like any other, full of dreams, full of aspirations and full of expectations that he wants to see come true. Yet, what I have achieved here is nothing more than lost children beyond
borders, and one boy behind prison bars.
My dreams are not secret, they are in front of my eyes all the time. Yet, where and when will my dreams come true?
War and conflicts are the reasons of our displacement, but what the world is deciding for us is totally different from what we deserve.