Author:Parwana Amiri
Public safety or mass extinction?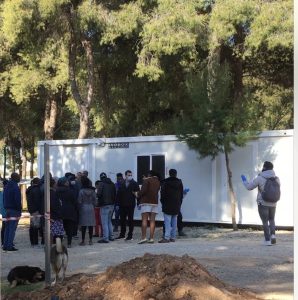 Here we are in the Ritsona refugee camp, located 70 kilometers north of Athens, constructed to house vulnerabe refugees. Ever since the outbreak of the Corona virus epidemic, however, the color and spirit of the camp have changed dramatically.
As the whole world is facing this terrible pandemic, the Ritsona refugee camp is where the first positive case of the virus, among the refugees in Greece, occured. As a result, we are now in a 14-day quaratine!
But …
What does quarantine mean in a refugee camp?
When we hear the word quarantine, the first thing that comes to mind is being locked down in a specific place, for a specific length of time, with a specific objective: to stay away from infected people who can put our lives in danger and to prevent ourselves from putting the lives of others in danger.
But, what is the reality of a quarantine for those living in a camp?