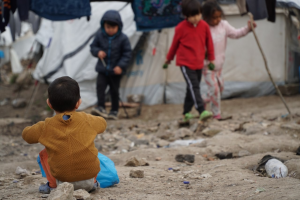 Voice of Unaccompanied minors – Letters from Refugees(moria) to the World No:6
by Parwana Amiri
Evacuate us from [strict] closed camps!
Normally, 24 million kilowatts potential energy exists in a person`s body. This amount of energy can supply the electricity of a small town for one week.
But I repress, stifle, waste all that energy, because of psychological problems every day. I am one among hundreds of unaccompanied minors who live in one of the most crowded refugee camps of Europe.
Here is Moria camp overcrowded with thousands of persons from every region of the world, with different backgrounds, different experiences and different mentalities. This diversity and complexity make the living conditions for hundreds of unaccompanied minors, be it boys or girls, physically and psychologically harder and harder.
A simple summer tent for shelter seems a dream for us. We have passed many days sleeping in the road. Instead of having access to useful education, we are learning how to steal, to use drugs, to trick the girls. And every day, we make plans how to get out of this prison.
I am an unaccompanied minor, who covered thousands of kilometers over deserts and borders to come to Europe. The sky was like my father and the ground was my mother. I passed the distances, counting stars, lonely and dreaming of a bright future.
I came here in order to have a brighter future, but what is happening to me and the other minors like me, is that we are losing our hopes and our future looks dark.
I have lived here in fear — fear of losing my way, my courage and my goals. Fear of becoming trapped by male wolves. So I prefer to live in the road instead of living with single men around.
Continue reading Letters to the world from Moria (No:14) →