60 years resistant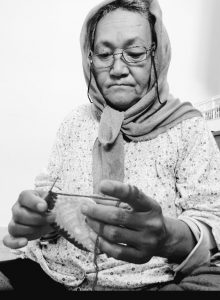 I had a simple life before I was forced to become a refugee. Mine was a small family with sweet dreams for the future. It was a united and loving family, caring and soothing each other with words, with affection, with smiles, with encouragement.These, not medicines, were the cures for our wounds, physical or emotional. And then, a revolution overturned our life, like a dark and menacing cloud after a sunny day. When two of my brothers were killed by the Taliban, we lost our security,safety and our shelter,
Those killings raised the alarm for all members of that house. Like a bomb they drove each member of the family into a corner. The power of the Taliban over the area we were living was increasing and so was their blind violence. So we had no other option but to leave our home, a house that was a shelter for 30 people, a huge, old and traditional house — a house we loved. Two of my brothers turned to internal immigration and went to Kabul, but for the rest of my family that was not an option. Our only hope was to go to Iran. So, we plucked our courage and after collecting all we had, I immigrated with my daughters and two sons and my grand children. We faced many hardships during our clandestine travels, but I had the power of my family with me, they were all with me, and we were sharing our strength with each other.
Iran, could never become like my homeland, and could never give me the feeling of home, country, compatriots. It was a place to only live, but without dignity, respect – a place which also made us reflect and understand that we have rights, and are not only slaves of the state, to work and generate economic profits for the government. My daughters got married there and built a small family, in a small house. Yet they could never make it a safe and pleasant world for their children. All were discriminated, segregated, even the children playing when they were in primary school. And once they finished with primary school they were excluded from any higher education.
It is suffocating for any parent to see the education of their children be limited to a specific duration of time, to a specific age and to a specific level of learning, and, as a consequence, the only thing that would be demanded from them would be their physical labour, not their mind, their talents and their ingenuity.
Life in a country like Iran is not easy or simple for any family. And so it was for my own family, especially since my husband had to work for 8 long years, in spite of his weak physical condition and, in the end, his accident.
Iran just left me the worst possible memories and we were not able to build a bright future. I could not allow my children and grand children have the same fate as my husband. So once again, with pressures from all sides, we had to decide to continue our journey to another country in order to make sure that we will not face the same problems we had faced here.
For me, there was no hope for a good life elsewhere. However, I accepted to venture elsewhere only to see my children and grandchildren live in peace. My husband died and my brothers were murdered. My body was getting weaker and weaker everyday and insulin was my only painkiller taking the measure of my breath and of my life — counting the number of days I would be alive.
You know, you are reading the words of a 60- year old woman who has experienced many difficulties, but has never given up, not because I was born strong, but because I had strong reasons to be strong.
I am a mother and a grand mother. The responsibility of those roles increased when my son's wife died while birthing her first child. Once more, I was attacked by life, and this continued. I faced too many different sorts of hardships, bringing up my grandchild, who could never forget his mother's smell, his mother's love and his mother's embrace. I was convinced that, in Iran, we would not be able to build and start a new life and make a decent future. So, we managed to control our fears and start our journey towards Europe crossing valleys and mountains, hot deserts and, finally, the angry sea.
In the end we reached Moria, where young people could not tolerate the conditions for more than a month. I was there for 3 months, My son was arrested by the police because he participated in a demonstration, asking for democracy with thousand more people.
 He is currently passing the hardest days in prison. No one defends him, no one claims his rights. There were many people in that demonstration. Yet, only my son was arrested, because the others were silent and did not attack the police. I realize now that I did not only risk the value of my life coming here, but also the unity of my family, which broke.
I am a woman, whose body is consumed by insulin and whose heart is consumed by the pains and injuries of my soul. I am left with many injures, with many pains and many wounds and many unaccompanied children without guardian. Having all these responsibilities is really heavy for me, and today when I feel myself weaker than ever, I realize that I am not the only one who is suffering all these pains, but I do not have anyone with whom I can share my words and can express my feelings. I am repressed, limited, in prison and banned, not by the fences around Ritsona, but by medicine and mental problems.
My son is in Prison, in Moria. My husband#s grave is in Iran. My grand children are without parents. My brothers grave is in Afghanistan. And I am here left on my own, and, on top of it, exposed to the corona virus. How many days may I stay alive? Here is not a place where I can breathe. My grand children's life is sinking in discrimination, even about their education. All these problems are suffocating me, they do not let me breathe.
How long will I be able to knit , using cottons of jackets and save some money for my medicine and fruits , that  I need to eat after using such strong medicines, how much more washclothes will I be able to made and sale with my weak hands, while my health is getting worse everyday , to collect the wanted amount from police station in Lesvos to release my son form jail.
Will I feel peace and respect during the last days of my life?
Will I see my children and grand children in a bright future?
Will I be treated as a women who has experience of 60 years of life, not a immigrant?
Will my son be reunited with me and his child?
Will I be able to rest ?