"Story of a bitter past, a lost present and an unclear future"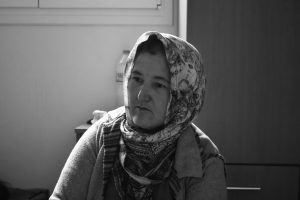 In Afghanistan: I got married when I was 12. No one asked my consent. In our village, Katshod, Ghirij, what is most important is not the girl's desire, but only the price that her marriage can obtain.
My husband who was 20 years older than me, had another wife.
First he had her stay away, but when we got married, he brought her back to our home. The woman was treating me as if I were her slave, she was torturing me, beating me and didn't even let me feed myself properly.

My family took me from him when they realized that he had brought his previous wife back home. Their decision was not inspired by
their kindness and affection for me. Soon after they got me back, they forced me to marry another poor man who had 8 children.
I was as young as his girls, yet I had to take care of those 8 children, boys and girls, who were abusing me.
 
When I was 15 my first baby was born. I didn't know how to take care of the baby, how to hold it in my arms. The whole experience was like a nightmare.

Meanwhile, my husband was ashamed of what he did, of his marriage to me. As a result, he had never wanted to introduce me to his relatives. I was seen more as his grandchild rather than his wife. My second child was born when I was 19.

When my daughter became three years old, my husband got very sick. I didn't know the reason, but the doctors in Iran diagnosed that he had cancer and he died of the disease soon after.

I was only 20 years old when I started cleaning and working in other people's houses besides taking care of my own small children. The landlord, where I was working, wanted me to leave work. However,
when I described my condition, he changed his mind.
 
The work was very hard, my milk got dry, no milk for my six-month old child. No diapers either. My spine was damaged and I needed an operation. I was working as much as I could, but there was no spirit and no inspiration in my life anymore.
My childhood and youth: As the first born child of the family, I was expected to work as a boy: collecting the crops from the farm; splitting the wood; taking care of the cows and hens — all these tasks were done by me alone, and even I was getting violent and frustrated when I was not doing things in the right way.

It is like the saying about women of Afghanistan: "if a girl learns violence in her parents' house, she will face violence in her husband's house too".

My hands were soar from sewing the heavy traditional carpets.
I was sewing clothes for people, but I had never had the opportunity to wear new clothes, not even once in my life. Neither did I have the opportunity to enjoy my time with my family.
From Afghanistan to Iran: My daughter became 14 years old, a young beautiful girl, but deprived of her rights and divorced from her dreams. I was not able to provide for her most basic needs, not even clothes for school or adequate food.

She married and started a new life. Luckily, her husband brought her happiness and peace, but once married, she couldn't continue her education.

We decided that our only hope for a better life would be to immigrate to Europe. We didn't have enough money to pay for all the children, so my son decided to stay in Iran and work in order to pay for our expenses to travel from Iran to Turkey and from there to Europe. He has been working as a security guard in an apartment building. Unfortunately, his employer doesn't give his salary regularly, not even the necessary documentation to get a work permit even though he has been there for many years and months.
7 years ago when my husband died and work became the priority of my life, I couldn't imagine that I would continue to work like that even after 7 years.

Life is very cruel. I could never feel happiness. At the end of the week, when my friends who worked with me discussed their plans for the weekend with their husband, there wasn't any plan for me.

They were all as poor as I was, but there was love and sharing in their family and love and sharing were exactly what I was desperately missing in my life.

I had tolerated many things, days that seemed to never end and months that were spent in pain. But today, I am crying for the week days during which I feel like a marathon runner who has been running kilometres and now is taking a breath and feel the fatigue of that running.
We were tortured, we faced violence and even forced into deportation while passing the border of death and life. These scenes are my nightmare now.
My biggest worry, now, is about my son who is left behind the chains of discrimination and racism in Iran while his belief in life and in a better future is diminishing day by day.
Before Ritsona Camp in Victoria park: After months on a Greek island we first landed on, we decided to leave and go to the mainland. When we first arrived at the mainland, there was no accommodation for us. So, on the first day, we went to Victoria park, where tens of families like us were staying in the open. There, we spent 20 days. Every morning the municipal workers came to clean the area and we had to wake up very early. Many times, they wanted to throw our back packs in the rubbish.
The locals considered the park dangerous because of our presence there and they preferred to walk on the road rather than cross the park unless they were forced to do so.
One woman we knew told me about Ritsona camp and wanted to host us for some days. We didn't have the money for our transport, but, fortunately, a local woman helped us out. Later, I could speak with the representatives of the community and they placed me in one of the houses.
Life has always been cruel to me. I have worked hard throughout my life: as a cleaner, as a worker in a furnace, as a tailor, as a farmer and, above all, as a struggling mother trying to keep alive her dreams for her children
You know, the word "man" has no meaning for me. I have been working like a man, continuously with no pause, without negotiating the number of my working hours. My only concern was the wages I could get.
My dreams: When I was in Iran, I was dreaming for a day of leisure, of rest, without worrying about food, not having to get up early (Azan). One might think that, here at Ritsona, I got the fulfilment of my dream. But here, things are really different. My days are empty, staying all day at home without anything to do. I am afraid I am losing my desire for life, my hope for a better future for me and my children. My loss of energy and hope is also affecting them very negatively.
I want to be the best mother, most supportive of my children. I want to provide for all their needs and to not let them feel deprived and have to face what I have been through.

Another dream of mine is to go back to Iran for the marriage of my son and see that there is love in his life now. I have been disappointed not to have him here, to live together with him. But I will never stop longing to see him again; he is the source of my hope.
If the world is reading me, they should know that there are eyes which, over sleepless nights, have shed floods of tears. They should know that there are lips feeling the bitter taste of life. For what I am, what I have been, where I have been and what I have gone through cannot be seen in one glance. Such knowledge needs time to be shared, to be communicated, to be listened to, to be read about. Only then will I be able to recover, to be cured.