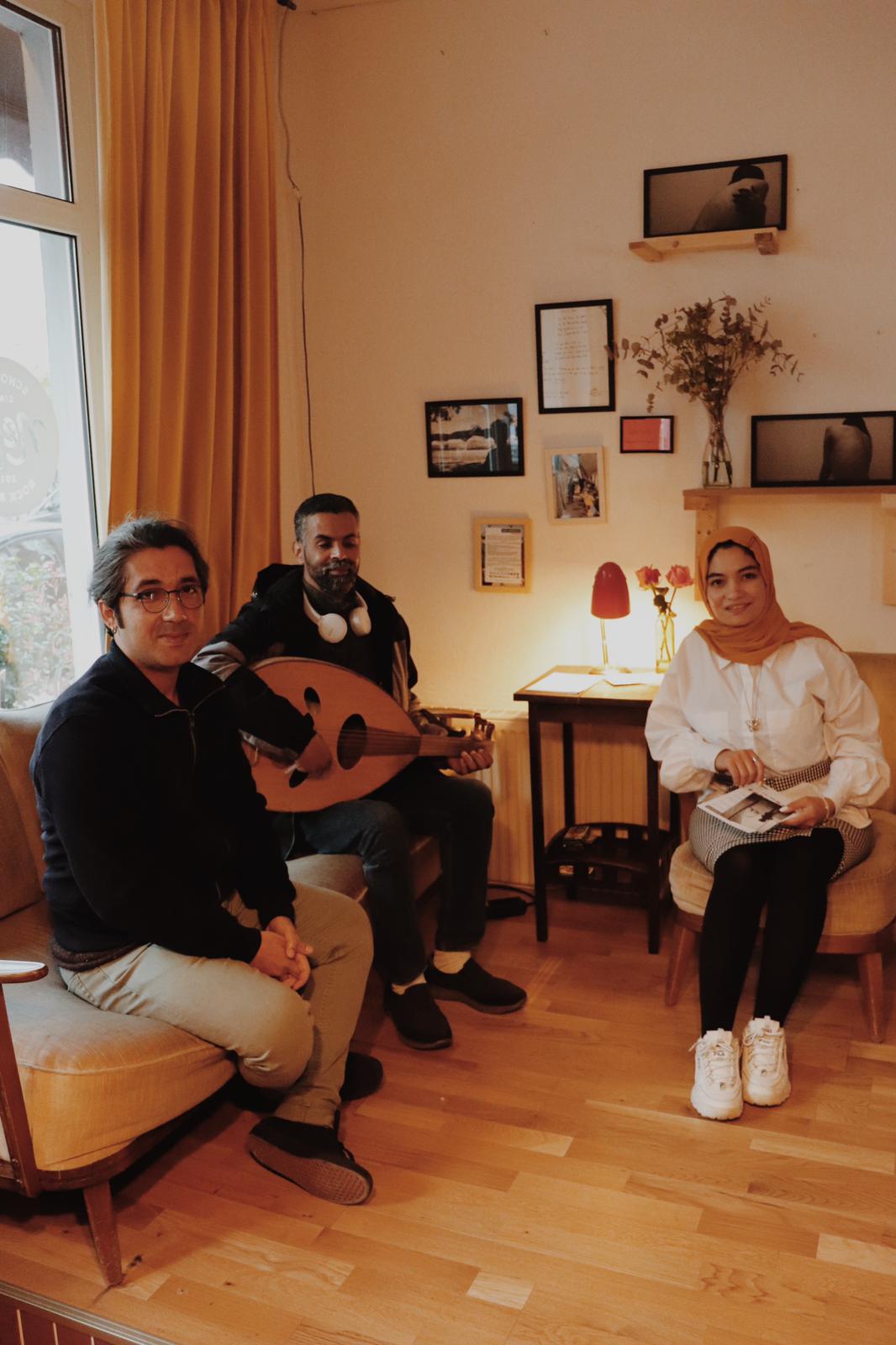 Currently where I am writing is a silent home, with two big windows, green meadows outside and children playing down in the yard. My mom cooked Pilav ( traditional afghan rice with chicken inside) and its smell is still running through my mind, its taste is always crazy. All day long I feel a precious silence that wraps around my soul. This precious silence is making my soul sleep. In a life full of tensions, with a soul full of passions, this silence is meaningless, as the struggles are calling me.
In the middle of the silence, tension finds a deep and strong meaning, in the same wayfreedom finds its  its meaning from slavery. 
I waited at the station.Chiara, the only person whom I had communicated through Arash (Iraninan activist, photographer and main organizer of "Why Borders, photo exhibition" ) came to pick me from the station, with her friend "Hasham" a musician ,who seemed blind, but able to see the people around him through the tone of their sound sor their language. 
For a second I went to his world, a world full of darkness, color bleached, but is the same for many who can actually see the world, those who ignore the colors, who are self caged, are they able to see? I don't think so..
He can be considered as one of many who can talk about goodness and badness in the way it should be analyzed, or maybe the only to whom goodness and badness has no meaning, both is gray. For Hasham, the world is made of many shades of gray, not black or white, not good or evil.
Our world has many things to see, but seeing is not enough, we need to consider, share, analyze and care. 
He is going to share pieces of music with us, and afterward I will read my poetry.
"Welcome to Bremen" Chiara says.
In one word, she is really unique, with the passion she has to the nice look she has about everything.
We went through the Cafe where Arash was sitting with a few others. Arash is here. I haven't seen him since his hair got longer and there is some more white hair that is clear evidence of his past, a clear image of inner thoughts. 
After greetings I asked if I could visit the exhibition. "Yeah of course, that is the reason you are here." That was a ridiculous question."
Immediately  I want to change the name of this event, "This is a protest tour".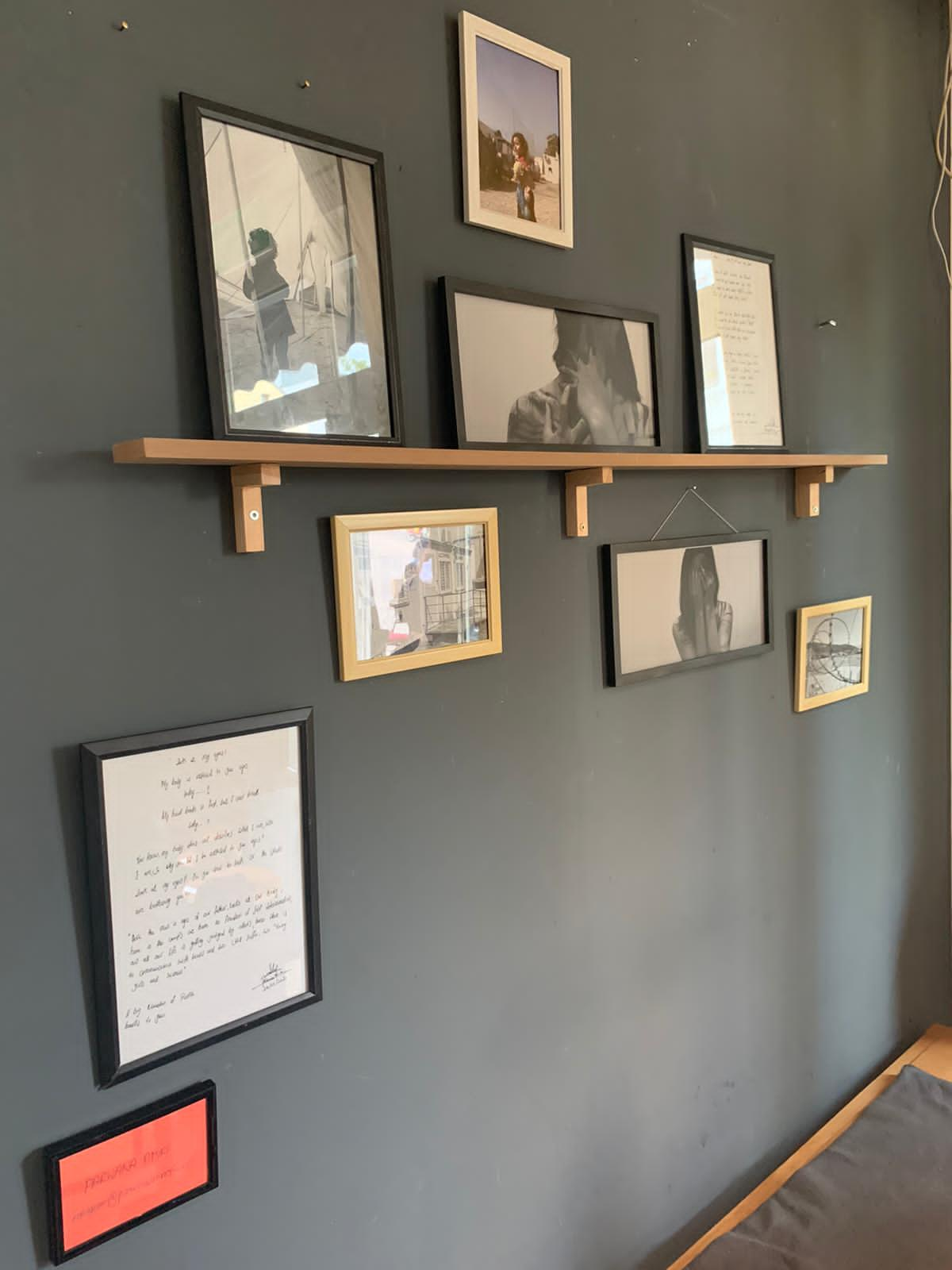 After the chat I had with Matthew Stadler, I felt more confident about this fact. 
An exhibition takes place to show, to display, but pain is neither for show nor for display, the drama behind our repressed lives  is not for sale and neither to be hand on the walls, it is to admire, to question it, to support it, to change it and if you aim to do all these, only then   can you buy it. 
This tour is clear evidence of all that is happening but "you" as non-refuges or refugees but nor under systemic violence, cannot see it. 
Mass media should be the last line of our connection.
Neda is here, her art is photos. I feel the strength behind whatever she does; the passion and patience in her life are symbols of the existence of nature, of the womb of women. 
You can find her famous photos in one of the letters I wrote from Ritsona, a story that was inspired by her creativity in feminism art and personal story. 
She is a girl full of words hidden behind a precious silence, the first girl I have ever had the honor to meet, who has  inspired her art with the rhythm of her body.
This is a school, a case of direct reflection in action.if we are not present in or at art projects, discussions and conversation, the adequate narration would have never formed 
he conversation about refugees, as all other critical conversations, would stay open and we would share in developing vocabulary to show that struggle against racism is not the entirety of the story.Such an analysis of racism would be helpful to those who are celebrating yesterday's freedom from slavery, a victory that it is insigtful and contains historical meaning from fights of Balck slavery and is a loud claim of the West and US. 
The struggles of displaced people/ refugees against state violence and systemic descrmination, against segregation, equal rights and health care and education continues. 
We need to reimagine the concept of safety and security, which will involve the abolition of camps, walls, policing and imprisonment as we know. 
We need our voice and right to freedom of expression, and to abolish the institution of camp as the dominant mode of safety with barbed wires at the top. 
 Our struggle is to raise our voices and show our existence behind the barbed wires. 
The combination of opposite genders in challenging repression and art in activism is another spectacular part of this tour. Israr, is a young passionate boy, I would count on his long hair for the patience being his pain. 
His lens in photography is clear: it is " the reality". 
I am not able to take anyone's photo, I can see their face, I am deep in feeling the feelings of others, and have rarely done it, with the full satisfaction of the person, but the way the photos are talking are enough to  silence  thousands of pains. 
The exhibition finished with my poetry performance and the wavy rhythm of Hasham's music.  He has incredible music and his voice is clear like the water of a fountain. 
Time for questions,, "What do you mean of feminist activism of Neda's art?"
"The way she uses the rhythm of her body, as part of loudness in expression, which is unique, is challenging and is activist, and opposes the  threats of loud and critical voices.