"Here is the world of moving statues. Here is the world of ghosts"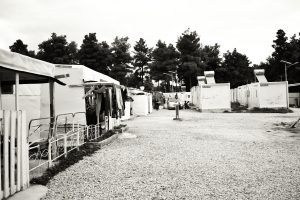 Yes, everyone is alive, but without a soul, without a purpose, without the energy of inspiration and desire that animates all life.
Their only wish is to cross Greece's frontier and reach another European country. There is no light of hope here, and we are all fading away. Here, the day is lived waiting for the night and the night waiting for the morning.
Here, the pregnant women end the last days of their pregnancy in regret, in repentance. They are beset by compunction for their children's future and dread that their new-born babies will have the same fate as themselves. They pray that their babies will not have the same experience and, with these thoughts and fears, they blame themselves for carrying these babies in their wombs.
Here, babies are born in the ambulance, in prefabricated houses or in containers. Their umbilical cord is not cut by a doctor, but by the crude blade of a midwife. The blood is wasting for hours, and in this traditional world, the baby who is born in the darkness of the night is called star-crossed.
Here, children are born, grow up, and pass the most decisive years of their life among metal containers and prefabricated houses, where every day is the same, an endless repetition, with no variety, no learning, no schooling. They all suffer from abject neglect.
Here, some girls get so lonely and so desperate that they even consider suicide. Sometimes, in their terrible loneliness, they lose their better judgement and trust any poisonous person around them. Yet, it all starts when the bonds of the families break down. The parents blame their sons and daughters for their behavior and they, in turn, blame their parents for their condition. For it was the parents who decided to leave their country and home and become refugees. The fact is, of course, that those poor parents could never imagine what their life would be like, once they crossed the borders and reached Europe. The generations do not understand each other, each lost in its own pains.
Here, the young boys resort to alcohol, as the only way to reduce the stress they are suffering. And when alcohol fails to alleviate their stress, they start using drugs, which come to them from different people's hands.
Here, people are like rings in infectious chains. It is enough that one thing be used by one person and it will be used by many others. It suffices that one boy smokes for others to start to smoke too. Independently of theiage, young boys and old men alike have but one goal: find the money, not for food, but to pay traffickers to help them cross illegal borders. Self organized businesses, mini markets and shops are the main activities to keep themselves busy and earn money – money which is the only means to try to move on to some other more hospitable place.
Here, the family units are broken easily and the crude promises from the authorities make this easier. For example, they say that those who get divorced, can find safe shelter. What they do not mention, however, is how long the shelter will be available and all the consequences that will fall upon them again.
Here, during the night, safety for adult kin refugees is to walk in the camp together, one the guardian of the other. Here, safety means to have the police, even though they do not intervene even when the conditions give way to chaos. But if there is talk about a sword, a knife, a stack of things, the secret polices appears immediately.
Here, life for the ones who do not want to become addicted, waste their life, or change the direction of their life, is to be fast, clever, careful, go along with the many, but, in reality, stay alone with his/herself.
Here, people prefer to lock themselves at home, not only because they are afraid they may get infected by the corona virus, but also because they are afraid of getting infected by many poisonous people.
Here, there are women who cannot come out of their houses in the absence of their male kin. The door is locked on them and even when they are facing violence they should hide their pains, they should not refer the violence even to the doctor. They should put their hands on their mouths, in order to prevent other people from becoming aware of their condition. The fact is that they all know the end of this line, they know that a place called "safe house", is not safe for a long time. Neither is there a safe fate for their children.
Here times are reversed for all, night is day and day is night. Here people's lives are inverted. Here peace and quite are only apparent. Underneath this appearance, there is chaos everywhere.Traditions and customs are suffocating for all.
Here, the safe way of raising a voice is found in the writings of a young girl. She is writing about the black and white world of the inhabitants of the Ritsona refugee camp, their lives lived like moving statues. Her sharp pen carves the blank pages of her notebook with her words. Yet, she is hoping for something else. She is hoping to write about her dreams, not the pains around herself.
I am that young girl. Yes, I am trying to live, not to become a moving statue, not to be repressed, not to be confronted by the next generation's questions, asking why I did not act. We are changed by authorities, those who are preventing us from thinking, speaking up, acting in order to keep our dignity, respect and honor.