Author :Parwana
Under COVID19 pressure
29/03/2020
For years, Ritsona Refugee Camp was ment for almost nine hundred refugees. Today, the camp provides accommodation facilities for more than three thousands refugees from the islands, most of them are vulnerable.
I am one of these new arrivals, who could find peace, dignity, primary education, health care, entertainment and all that a human needs for a normal life, under one camp – Ritsona Refugee Camp.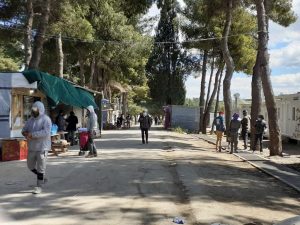 Our all-day-life-world changed here for us, people could get back their normal moral state. Communication became much stronger than what it was before. But we are all under a huge pressure of a common problem – COVID-19 – that has a single solution: stay at home to keep your safety!
That is almost impossible when you are a part of more than four thousand people, and live in a container with more than eight persons .
While all through the world, the rule is to stay at home temporarily, here it is just to stay in the camp. But in Ritsona Camp this is not logical. People are in a close contact with each other every single moment, without having any information about what it is going on throughout the world or ways of protecting themselves and their children.

All organizations and NGOs are temporarily closed, as no one knows how long it will take to find a certain solution. IOM and the medical organization are the only organizations who are still active and give primary services to people.
We all cook at home with the food-stuff given for the first time by the authorities and with what we can find from internal shops of the camp.
Playgrounds of the camp are open and children still pass their days there. Fortunately we are lucky that our camp has not had any case of COVID-19(Corona-virus) yet, but this virus does not have any borders and treats all equally.
WE ARE WORRIED
Youths are the source of power anywhere, and here it is the same. Before the lockdown started in the camp and all through Greece, the authorities started informing people about self-protection with resident community groups. Unfortunately they could not continue their programs. After this, I started having some campaigns with the youths of my community, which was so positive and helpful for many as they transferred all the information that they learned during the campaigns and the posters we made.
But there is are rules in Ritsona Camp and no one can keep the children at home. When there are no toys or entertainment at home, it is so hard for their mothers to control them. Children go out and have close contact with each other, and this is not safe for them.This is what doctors are afraid of.
Earth is in equality and this virus treats us all equally, but we are not treated equally yet.
For us, this camp is a common home. While you have to stay at home, we have to stay in the camp where there is no guarantee of health safety.
We are in such close contact with each other, close like a linked-in-chain. If one of us will have it, in less than one week half of the camp will become patients, and children will be the first victims .