Author : Parwana Amiri
The chain has been broken
02/04/2020
What we were afraid of has happened. After giving birth in a Hospital in Athens, a women – that escaped from somewhere in Africa – and her newborn where soon released from the hospital and brought to Ritsona Camp. She was then tested positive for the Coronavirus. After being in touch with 63 persons in the camp 20 positive results have been confirmed in the camp.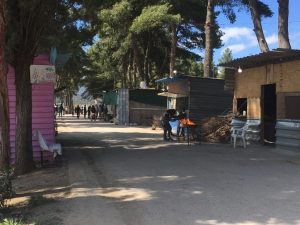 The quarantine started from today 02/04/2020. People are in panic and they are trying to keep their distance with people from African countries – that will not decrease the risk. With this treatment from other communities, residents that escaped from countries in Africa raised their campaign in the camp more than ever with slogans like "Africans have NO Coronavirus".
However, the International Organization for Migration (IOM), one of the official actors of the camp, announced that they will begin to distribute food baskets and hygiene kits to camp residents and that people would continue to have access to medicine. But it is not clear when. The residents prepare their food in the homes, they started buying what they need from internal shops of the camp. But most of people are not able to buy their necessities as the bank cash that were going to receive on the beginning of this month, has been delayed on 20th of the month
Close contact of people with each other, having no mask, less access to medicines they need as vulnerable people, is increasing the risk more than elsewhere.
14 days quarantine for residents from government and emphasized by active NGOs of the camp, sending frequent messages to residents. But still different reasons push the residents to go out and provide their necessities, meanwhile police started their activities to control the movement of people in the camp.

The 63 persons tested and 20 positive cases of disease were the ones with the most close contact with the first case, and they had no symptoms of disease. Still the general tests from all residents have not started yet, this shows anyone can have it . But, the first rule of staying save – having 1 or 2 meters distance – has not seemed possible between residents while waiting in queues for seeing in doctor or while shopping.
Playgrounds become empty and families are trying to keep their children at home as much as possible, but living with 8 more people who are almost all vulnerable can not be safe for them.
This virus spreads with such speed that it can diffuse between people fast and easily.
Praying is the only thing they have left. Almost all of the people living in Ritsona Camp are trying to eat less and are waiting to have the monthly cash allowance.